Enrollment
To be admitted to the Master Course in Geoengineering, it is required a first cycle or a single cycle degree awarded by an Italian or a foreign University, that allows the continuation of studies to the next level.

In addition, applying students have to retain the general educational requirements and possess an adequate personal education background, certified by a specific authorization (nulla osta) issued by the Education Committee of Geoengineering master course.
In order to obtain the authorization (nulla osta) for the enrollment, the applicant needs to follow the instructions below.
If you hold an Italian Bachelor Degree, you should: i) fill-in the form "Application for the assessment (doc; pdf)"; ii) send the form to the Degree Course Administration Office (Segreteria Didattica dei Corsi di Laurea) at strudida(AT)ing.unifi.it.
If you are a non-EU or a EU citizen holding a bachelor's degree obtained outside Italy and you wish to apply for admission to master programs offered by the University of Florence, please follow the instructions of the online portal for master's applications!
The Education Committee will assess the curricular background and the personal training of the applicant, on the basis of the exams taken to get the previous graduation and through the verification of his/her personal education background. If the applicant won't achieve the entry requirements, the Educational Committee will ask him/her to obtain the required missing ECTS and will provide the necessary information on how to obtain them.
Please note that a knowledge in English Language B2 Level is also required. English knowledge can be proved by providing a B2 certificate issued by University official language centers, in Italy or abroad.
At the official Language center of the University of Florence (Centro Linguistico di Ateneo - CLA), the applicant can test knowledge in English Language and acquire the requested certificate. To have access to B2 level English laboratories and/or test sessions, the applicant has to present the official document issued by the Degree Course stating the need to acquire a B2 level of English language for the enrollment.
The certificate is not required in case of previous academic degree in English Language or if the applicant is English mother tongue.
Dates and Deadlines for enrollment of the academic year 2022/2023 are reported below (see Manifesto degli Studi for details).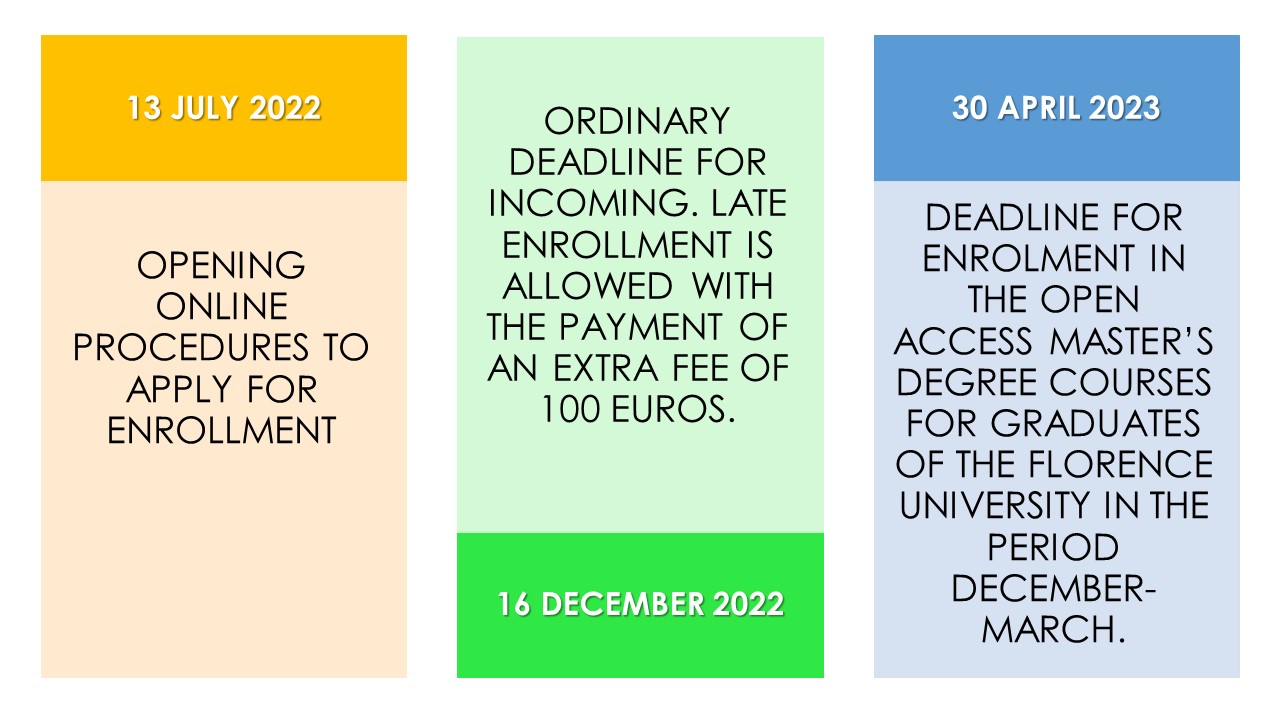 More information on the procedures for entry, residence and enrollment at higher education institutions for students requiring visas for higher education courses in Italy, for the academic year 2022-2023 are available here.
last update: 17-Feb-2023